| | |
| --- | --- |
| | Friday, 18th September 2020 |
| | |
| --- | --- |
| Ireland will remain a key market in the search for global equity value: Dixon | back |
By: Barry Dixon
Barry Dixon, the head of Davy Research, whose firm again wins the award for Best Equity Book, provides an overview of the key Irish equities and assesses their world class characteristics against their international peers.
The ISEQ index of Irish shares had declined by 67 per cent year-to date at the time of writing, making it one of the worst performing markets globally for a second year in a row. From the peak in February 2007, the index is now down over 75 per cent. Irish and international investors alike might be tempted to ask: why should we bother with Ireland at all?

The answer is fairly straightforward: Ireland is relevant for its world-class companies across a range of sectors.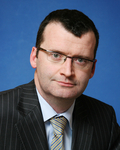 Barry Dixon



There was a time when the main role of an Irish stockbroker was to analyse Irish stocks for inclusion in Irish portfolios. International peers were given a passing glance just to make sure that the Irish stock valuation did not look too out-of-kilter.
These days, however, providing a peer valuation table to clients is not enough, even for those investors managing an Irish-only fund. Brokers must be able to provide detailed analysis on international peers, to a standard equivalent to the analysis provided on the Irish stocks. The broker must also be able to provide sales, trading and corporate broking services equivalent to those offered on Irish names.

The ISEQ - a market of stocks rather than a stock market
One of the main reasons for the poor performance of the ISEQ year-to-date is the relatively high proportion of the market accounted for by financials. At the start of the year, the financial sector accounted for almost 43 per cent of the market's total capitalisation. At the time of writing, the Irish financials index had declined by 88 per cent year-to-date, contributing over half of the overall market decline. The financial sector globally was one of the worst performing areas for all of the reasons with which we have become painfully familiar. Irish financials underperformed international peers, but not massively so given their relatively high exposure to property-related assets.

Irish food stocks significantly outperformed the market, but performed broadly in line with international peers. The same is true for our construction names, apart from CRH.

The bottom line is that - with a few notable exceptions - the performance of Irish stocks is more highly correlated with the performance of international peers and sectors than with the Irish market as a whole. The performance of the Irish market is simply an aggregation of these sectors' performances.

World-class sector leaders
Sector performance has become much more relevant to investors than country performance. Investors are looking for stocks within sectors that are world-class and represent outstanding value.

One of the main reasons why Ireland should still be relevant to investors is the number of world-class companies, across a range of sectors, that are quoted on the Irish exchange. The following are a few examples:

• Construction:
CRH is now the second-largest building materials company in the world by market capitalisation (after Saint Gobain). It has by far the best balance sheet in the industry and is the most exposed to growth in the increasingly attractive US infrastructure market. This stock is certainly on every construction portfolio manager's radar globally.

Despite the market slowdown, energy conservation, carbon emissions and insulation are likely to remain key themes over the next ten years. No company has emerged as a global player. Kingspan has very advanced technology in this area and could emerge as a global leader over time.

• Airlines
Ryanair is the largest and most successful low-cost airline in the world. It is generating margins and returns that investors did not think possible in what has historically been a difficult industry. It continues to outperform global low-cost and network peers.

• Foods
Glanbia is the largest manufacturer of cheese in the US. Whey is a by-product of cheese manufacture and has allowed the company to develop a strong position in whey-related proteins. This could be an area of big interest in the next ten years.
Kerry Group is one of the world's leading food ingredients companies. This business is based largely on proprietary technology across a range of products, systems and applications developed over the last two decades. The group serves both the pharmaceutical and food manufacturing sectors.

ARYZTA, formerly IAWS, is a global player in the specialty bakery market. It has operations in the US, Europe and Asia. The company has developed proprietary baking and par-baking techniques that allow convenience outlets to prepare and deliver high-quality bakery products.

Origin Enterprises has been in the vanguard in terms of developing new methods of precision farming. Despite the current slowdown, the global population continues to grow rapidly and will have to be fed. Current production levels will prove insufficient. Origin plays to this theme.

• Paper and packaging
Smurfit Kappa Group is Europe's leading manufacturer of corrugated boxes with over 24 per cent market share. It also has significant corrugated and packaging operations in
Latin America.

• Gaming
Paddy Power is the leading bookmaker in Ireland and is developing a significant presence in the fast-growing online market. It has also established a presence in the highly competitive UK market through its innovative branding and attractive customer proposition.

• Resources
Dragon Oil is an independent exploration and production company that is focused on redeveloping two fields in the Turkmenistan sector of the Caspian Sea. To date, this area has been largely underdeveloped and it could prove to be hugely oil-rich.
And there is a range of other interesting and exciting players across the sectors represented on the Irish market. In order to analyse these companies and provide an accurate context for their operations, we need a detailed knowledge of their sectors internationally.

Competence in the international arena is essential
Traditionally, the role of the Irish broker was to argue that companies such as those listed above - along with others - represented good value, based on the quality of their businesses, and their attractive valuations relative to historical levels, the market as a whole and international peers. This type of analysis is no longer sufficient in our view.

Analysts need to know and understand international peers as well as they do the Irish stocks in order to be able to position the latter in their sectors. This means meeting the management of international peers, visiting their businesses and divisions, financial modelling, debt analysis etc. In effect, analysts should be able to formally initiate coverage on any of these names. And the quality of that coverage should be equal to, or better than, what is provided by the large international houses.

This is a new direction for Irish brokers, providing challenges as well as opportunities. It means having the right resources across our business. It requires a more international focus but without any lessening of our attention to the Irish names. It means extending a brand that is synonymous with quality research and sales to incorporate international names. And all this in an environment of declining markets!

At Davy, we have embraced this opportunity for a number of reasons, not least of which is the fact that it allows us to better position Irish corporates in an international sector context.

We now formally cover a range of international names across a number of sectors including construction, airlines and gaming. And we plan to expand our coverage in a number of other sectors over the next year.

Our team of research analysts and sales executives are now as familiar talking about Lafarge and Holcim as they are about CRH and Kingspan, British Airways and easyjet as Ryanair, or Ladbrokes and William Hill as Paddy Power. We regularly publish sector and company-specific reports covering international as well as domestic names.

However, it is important to stress that none of this would be possible if we did not have world-class quoted Irish companies across a range of sectors. As I noted at the outset, this is one of the key reasons why Irish and international investors will continue to focus on Ireland.

Barry Dixon is head of Davy Research.