| | |
| --- | --- |
| Quality of equity research key, but solvency a new concern | back |
There is no denying the correlation between external market conditions and the arrival of a new category, 'Solvency of Counterparty', entering the table for the first time at number four. Surely a clear sign of turbulent times? Ahead of that however is 'Quality of Equity Research' which is always close to the top of the pile as was the case in 2006, but last year slipping to second behind Day to Day sales service.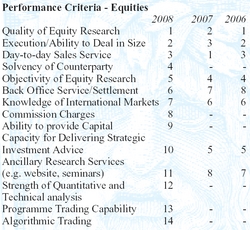 Performance Criteria - Equities



Responses indicate that reducing risk through execution is a crucial factor, with 'Execution/Ability to deal in size' moving from third most important criterion in 2007 to second place in 2008. However, 'Capacity for delivering strategic investment advice', was perceived by respondents as being less important, with the category falling from fifth place in 2007 to tenth place in 2008. Strategic investment advice has dropped, reflecting a desire for institutions to get primary equity information for their money, leaving the strategising to investors themselves, who may well feel, in current markets, that if they are going to make mistakes, at least they won't have to pay more for them.