It's a hat-trick for Dermot O'Leary of Goodbody as he is awarded 'Best Research Economist' for the third year running. O'Leary was

Dermot O'Leary


first awarded the title back in 2006, when he took the title from Robbie Kelleher of Davy. In the four years he has appeared in the survey O'Leary has won three times and came second in his debut year. The win means that for a second time a Goodbody economist has won three times, a feat achieved by former research economist at Goodbody, Colin Hunt.

Rossa White of Davy is moving up in the right direction, climbing one place from third place in 2008 to second place in this year's survey. Third position goes to Sebastian Orsi of Merrion, who has moved up an impressive three positions, from sixth to third, in the past year. Three newcomers to the rankings are Brian Devine of NCB, Robert Lind and Dario Perkins, who take fourth, fifth and sixth position respectively.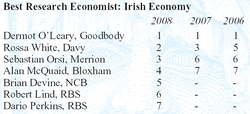 Research Economist of the Year