The FINANCE Stockbroking survey has been running since 1987 and although some of the older companies have gone and newer arrivals have consolidated their position, there have been a number of constants '€' chief among which are the pre-eminence of Davy and a surprisingly low turnover in individual brokers employed by all the houses.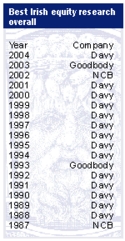 Best Irish equity research overall




Back in 1987, the firms in contention for the awards were NCB Dillon & Waldron, J&E Davy, Goodbody James Capel and Riada & Co. All these firms are in existence today, with ABN AMRO having taken over Riada.

The most notable development on the stockbroking firm front over the past fifteen years has been however the emergence of a new firm '€' Merrion Stockbrokers. This was formed in 1999 when several senior executives of NCB, including John Conroy who is today head of Merrion, left to form a new firm.

NCB itself has also seen some changes during the years. When the survey started it was called NCB Dillon & Waldron, due to the merging of Dermot Desmond'€ôs money broking firm, National City Brokers, with stockbroking firm, Dillon & Waldron, but was then bought by Ulster Bank. In 2003, management at the firm, under Conor O'€ôKelly, implemented a management buy-out of the firm.

The firm ratings
There is no question that Davy historically has been the dominant Irish stockbroking firm, having won the survey outright on sixteen occasions, losing only to NCB in 1988 and 2002.



Analyst Ratings


With regards to overall quality of equity research, which is often perceived as being the most important category, this year'€ôs win for Davy marks a return to form, having been runner-up and second runner-up in the past two surveys. Davy has topped the poll in this category an impressive 13 times out of the 18 years the survey has been running.

NCB, which bloodied Davy'€ôs nose in so many categories in the very first survey, has two overall research wins to its name, in 1987 and 2002, as does Goodbody, which won in 1993 and again in 2003.

Davy also dominates in terms of '€ėBest overall sales/dealing service'€ô, having won the category every single year.

Individual ratings - equities
When it comes to individual brokers and their specialty sectors, some consistent trends are clear over the history of the survey. Certain houses have dominated specific sectors over the 17 years, a fact which is not surprising considering the relative stability of personnel within the operations. For example, among economists looking at Ireland, Jim O'€ôLeary of Davy has consistently topped the polls, winning 11 times over 18 years. Colin Hunt of Goodbody is the most recent winner, with three titles now to his name. With his departure from Goodbody it will be interesting to see who steps into his shoes in next year'€ôs survey. It is likely to be either regular runner-up Robbie Kelleher of Davy, or previous winner Dermot O'€ôBrien of NCB. Another past winner in this category was Dan McLaughlin, who was with ABN AMRO when he won in 2000, but is now with Bank of Ireland.

Among analysts covering the industrial sector, both mid-cap and main companies, NCB has dominated, with its brokers winning eight times. NCB'€ôs Denis Whooley took the prize in 1987, although it was surrendered to Joe Burnell of Davy the following year, and he held on to it for four consecutive years. Mike Moroney of Goodbody took the prize in 1992 but John Conroy, who was with NCB at the time, took it in the two following years. John Clarke of Riada won it once, with Conroy winning it a further two times. Pat O'€ôSullivan of ABN AMRO won in 2000 although NCB have reasserted themselves in recent years, with John Sheehan taking it three times since.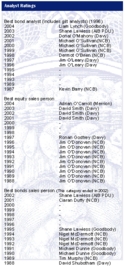 Analyst Ratings


The key financial sector has seen considerable action over the history of the survey, with a wider spread of broker houses winning out than evident in other areas. This is probably due to the size and significance, both nationally and internationally, of the main players in the sector '€' AIB and Bank of Ireland '€' and the consequently high level of research devoted to them. Pat Plunkett at Riada was deemed to provide the best coverage back in 1987, although Denis Whooley of NCB won the next year. Noel McEvoy of Goodbody took top spot for the next two years before surrendering to John Hogan of Riada, who held on to his position for three subsequent years and won out again in 1996. Emer Lang of Davy won twice, while Eamonn Hughes of ABN AMRO took the top prize for three consecutive years. He lost out to NCB'€ôs John Kelly in 2002, while Seamus Murphy of Merrion won in 2003 and 2004.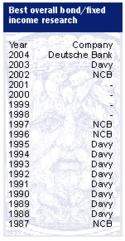 Best overall bond/fixed income research


The title of '€ėBest equity strategist'€ô was introduced in 1993, and was first won by Davy'€ôs Robbie Kelleher. Although he surrendered to John Hogan of Riada in 1994 and 1995, he reasserted himself in 1996. John Conroy ousted him in 1998 but Kelleher subsequently bounced back to take the title from 1999 '€' 2001. For the past two years NCB'€ôs Bernard McAlinden has taken this title, but in this year'€ôs survey, Kelleher is back in front.

In the category of '€ėBest equity dealer/sales person'€ô, first voted on in 1989, NCB'€ôs Jim O'€ôDonovan has dominated, winning for nine years in a row before being overtaken by Ronan Godfrey of Davy. The category was discontinued for several years, but when introduced in 2001, Davy'€ôs David Smith dominated the title for three years. This year'€ôs win for Adrian O'€ôCarroll marks a first for Merrion.

Individual ratings -bonds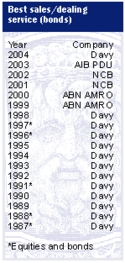 Best sales/dealing service (bonds)


As in the equity research category, Davy also dominates '€ėBest overall bond/fixed income research'€ô winning the title nine out of the 13 times it has been included. Its nearest rival in this category is NCB who won the four other times.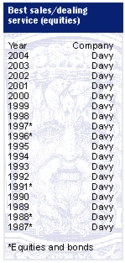 Best sales/dealing service (equities)


In the category of '€ėBest bond analyst'€ô, after an initial win for Kevin Barry of NCB in 1987, the category was dropped, re-entering the survey in 1996 when Davy'€ôs Jim O'€ôLeary took top spot the first and second years, with NCB'€ôs Dermot O'€ôBrien winning in 1998. O'€ôBrien'€ôs colleague at NCB, Michael O'€ôSullivan won the next two years, with Donal O'€ôMahony of Davy winning in 2002 before Shane Lawless of the AIB Primary Dealer Unit overtook him in 2003. NCB performed well in the '€ėBest bond sales person'€ô category, winning the title on four occasions.