| | |
| --- | --- |
| Significant falls in financial services salaries | Back |
Salaries in most of the main financial occupations have fallen, some significantly, between 2007 and 2008, according to a survey of job postings in FinanceJobs.ie over the past year ‑ so is it the end of an era, or the beginning of something new?, Geraldine Pollock asks. Job offers in financial services remained firm through the Autumn of 2007, but with the dawning of the new year, the trend, like house prices, has been downward. According to the first annual survey of salary levels computed on the FinanceJobs.ie website, salary offerings in summer 2008 are running down by between 5 p.c.-10 p.c. in the main financial occupations compared with the end of 2007.
All good things, must come to an end, and judging by the results of Financejobs.ie's survey comparison of salaries from June 2007 and June 2008, the glory days of rocketing remuneration for some sectors may be well and truly over.

Nevertheless, according to a number of recruiters in the market, the gloomy cloud may still have a silver lining: 'It just wasn't feasible for the market to sustain salaries which were continuing to rise at such an alarrming rate,' said Ken Harbourne, country manager at Robert Half International. 'I think the figures reflect a normal adjustment that has been a while coming - and in the long run it will probably have a positive effect on the candidates and the sector as a whole.'

Examples of the more positive effects, said Harbourne, include the fact that, by default, less emphasis will be placed on salary and more emphasis will be placed on longer term benefits that companies can offer. 'A career in finance is a long-term commitment and candidates will be looking more at training, the stability of a company and various other benefits,' he said.

Barbara Donnellan, operations manager at Eden Recruitment, agrees: 'When people were being offered highly inflated salaries they were finding it difficult to move, so in some ways the salaries had a negative impact on the market as a whole.'
She continued, 'moving forward, candidates will look more at how a particular role can help them improve their skills, which, ultimately, is good news for the industry as a whole as there will be very highly-skilled and experienced people in the market. I think a lot of people may not have been happy in particular roles, but were enticed by the money, so I think this situation will change as a result of the apparent decrease in some salaries.'

'I would encourage candidates to look at the bigger picture,' said David Hannon, manager, executive selection at Deloitte & Touche. 'They need to have flexibility and look at the long-term prospective of the company they are joining. Is the work challenging? Is the job enjoyable and what are the promotional prospects?'

Estelle Davis, manager, financial services at Brightwater Selection, said that the apparent stabilisation in some areas was not a bad thing. 'The salaries for newly qualified accountants were exploding and the whole thing was getting a bit crazy,' she said. 'However, we have seen that this has stabilised which has had a positive domino effect on all levels.'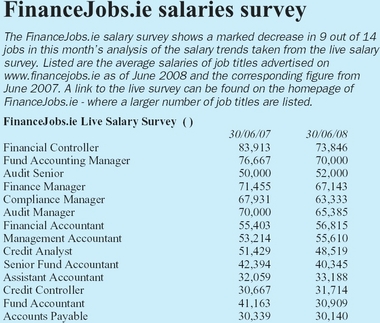 To see the latest figures live go to: http://www.financejobs.ie/livesurvey/



Davis added that: 'many businesses are standing back and taking stock of their staff, their skills and capabilities,' she said. 'As a result, the biggest impact is at the senior levels where more emphasis is being placed on the commercial and strategic aspects of the business. In addition, stabilisation has meant that there may be less members in a team, but there are more opportunities for cross-training and cross-selling skills, which is good for all concerned.'

Jennifer Ward, manager, banking and financial at Sigmar Recruitment, claimed that although she had not witnessed major decreases in salaries, 'companies are definitely not giving the extra increases to attain a candidate. It seems that companies are taking more of a control on candidates who are looking for inflated salaries and sticking to their guns in terms of budgets.'

External effects on internal conditions
Asked whether the fall in salary levels would impact on Ireland's reputation as a financial centre, or indeed its alleged 'skills shortage', most recruiters felt that some repercussions would inevitably be felt. 'There is a global war for talent and if Ireland wants to remain competitive it will need to offer competitive salaries to attract talent,' said Hannon at Deloitte & Touche. 'Employers who take advantage of an economic downturn to reduce salaries on key positions may end up weakening one of the best competitive strengths they possess - their people.'

'The market and related conditions are not exclusive to Ireland - it's a global trend,' said Harbourne at Robert Half International. 'So the battle should be fought on creating opportunities. And if those opportunities are available, then we'll continue to attract the
best people.'

Ward at Sigmar Recruitment agreed, 'I don't think this environment is only being felt in Ireland, so I feel that international candidates will continue to be attracted to Ireland and skilled Irish workers will continue to be attracted to companies based on location, compensation packages, work-life balance, and so on.'

Donnellan at Eden claimed that: 'alot of people are wary about coming into the Irish market to work, but the current global financial situation, including redundancies in New York and London, has meant that people would be spreading their nets wider in terms of relocation, and Ireland coudl be one of the areas they seriously consider.'

Davis at Brightwater Selection said that many companies are looking more closely at their business models, and she believes that Ireland is still an attractive destination. 'Over the last few years we've seen a massive influx in candidates from Eastern Europe and the Middle East ‑ Ireland is still viewed as a good place for professional candidates to be placed in good roles offering good experience.'

What goes around, comes around
So what does the future hold for salary levels? Opinions amongst recruiters were mixed, but all agreed that the cyclical nature of the market means that more good times will be experienced. Exactly when that might be, they claimed, wasn't so easy to predict. 'I think the market's in for a rocky ride in some sectors for another year, to a year and a half,' said Davis at Brightwater Selection.

'Companies will continue to call the shots for a while yet,' said Donnellan at Eden. Whilst Hannon at Deloitte & Touche was more specific, predicting that: 'it is looking increasingly likely that it will be April 2009 before we see demand in the jobs market returning.'

According to Ward at Sigmar Recruitment, 'candidates looking for work at the moment really cannot afford not to be at the top of their game.

There is high competition for roles and if they want to achieve their salary ambitions they have to show their worth more than ever and be highly prepared for interviews.'

Harbourne at Robert Half International concluded by saying that, 'This market is, and always will be, extremely cyclical. There's no doubt that belts have been tightened recently - but they will loosen in the relatively near future. In this market, it's true to say that what goes around really does come around.'
Article appeared in the August 2008 issue.