| | |
| --- | --- |
| Going global from Dublin – with a little help from the locals | Back |
The arrival of PI Investment Management Limited (PIIML), a subsidiary of Australian fund manager Perpeutal Trustees Australia Limited (Perpetual), caused quite a stir when it announced last September that it would be setting up a global equities business in Dublin - and poaching a number of senior fund managers from Bank of Ireland Asset Management to run it. A year down the line, the furore surrounding the move has disappeared, and the team are getting on with what they know best – managing money. Head of the Irish business, Rory MacIntyre, tells Fiona Reddan why Perpetual came to Dublin, and what they hope to achieve there.
The establishment, late last year, of PI Investment Management Limited (PIIML) in Dublin, was a welcome boost to the financial services industry in Ireland, with the last front-office fund management operation of size to open in Ireland, being Pioneer Investments back in 1994.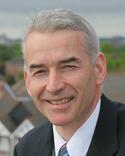 Dublin born MacIntyre accepted the job before he knew where the global equities operation would be based.



The firm is a subsidiary of Australian fund manager Perpeutal Trustees Australia Limited (Perpetual), which is an independent diversified financial services group established in Australia more than 115 years ago. It operates in the funds management (with more than €16 billion in assets under management), financial advice, fiduciary services and corporate trust markets. Listed on the Australian Stock Exchange, it has a market capitalisation of €1.4 billion as at June 2005.
Irishman Rory MacIntyre is head of the new operation, having spent the past ten years working with the firm in sales and development in Australia.

MacIntyre, who was national sales manager at the time, accepted the position of managing director in April 2004, for Perpetual's new global equities business 'sight unseen', as at the time he was not aware where the new business would be located. So he was pleasantly surprised when the choice of personnel dictated that Dublin would be base for the new operation.

The whole process started back in early 2004, when Perpetual started thinking about growing the business internationally, thereby reducing its reliance on on Australian equities, and in addition looking for a better arrangement for it's existing retail clients. The company identified global equities as an area where considerable opportunities lay. At the time, Perpetual had a 10-year sub-advisory relationship with Fidelity Investments, whereby Perpetual distributed and marketed Fidelity's products to retail investors in Australia.

'But we thought we could get more out of the global equity product, as we could only market Fidelity's products to retail investors and only in Australia, so this inhibited growth, and in addition we wanted to be able to offer our retail clients a product that we felt would be a better option over the long-term,' says MacIntyre. So the company set about assessing its options, which included strengthening the alliance with Fidelity, establishing a joint venture with another company, or making an acquisition. In the end, Perpetual opted to establish the business in-house, and recruit people with the right skills to manage the portfolio.

'The business was going to be set up wherever the skill base was', says MacIntyre, 'but we wanted to recruit a group who were English speaking, based in the northern hemisphere, and who had worked together for a number of years. Ideally the team would have looked at fund management in a similar way to Perpetual also'.

Warren International, an international recruitment firm based in New York was hired to find the team, and the search led them to the internationally well-regarded Bank of Ireland Asset Management.

The chosen team was John Nolan, formerly deputy chief investment officer, Des Sullivan, also formerly a deputy chief investment officer, John Forde, senior equity manager and associate director, Richard Kelly, a director, and Sarah Molloy, senior equity manger. Oliver McClure, formerly of KBC Asset Management, joined the team of five ex-BIAM employees soon after.
So the decision to establish in Dublin was due primarily to the quality of the staff Perpetual found there. But there are other advantages.

'Being based in Dublin is good for the business as you can straddle the time zones,' says MacIntyre, who speaks to head office in Australia on a daily basis, adding that, 'Dublin is firmly on the map as a financial services centre of repute'.

So once Perpetual had identified the team it wanted, how did Perpetual convince them to move from a firm which had become one of the world's leading fund managers? Apart from a significant pay package, which gives the team equity leverage to the success of the business, with Perpetual setting aside AUS$28 million in shares for the team, which will vest over the next seven years if they hit revenue targets, another key attraction, says MacIntyre, was the fact that PIIML would pursue a very focused single product strategy.

Start-up
The Dublin operation started running money running in March of this year, when €1.4 billion in assets were transferred from Fidelity to PIIML. The firm is currently marketing its product in Australia,

The Dublin office employs 16 people at present, and another ex-BIAM employee David Boal came on board in December of last year as director of business development. Apart from Boal, MacIntyre, the six investment managers, and Patti Eyers, who also moved from Australia as head of finance and administration, the additional seven people work on the operations side. None of the investment managers sit on the board of the firm, as 'they don't want to be distracted by company issues' says MacIntyre.

MacIntyre sees the operation, as a 'slow burn', and is looking for strong growth in the long-term, as the firm only has an investment track record from March of this year. PIIML is currently being rated by a number of consultancy firms including Mercers and Watson Wyatt, a process which can take six months or longer, says MacIntyre.

But in May of this year, PIIML got an early break, when it was appointed as an external manager for Irish Life, joining only two others. Its product sits on Irish Life's retail platform and has been available to the broking community since June.

'This is an early endorsement of what we're doing here,' says MacIntyre.

The funds business has many segments – large pension funds; multi-managers;foundations and endowments; family offices and local authorities. MacIntyre says they are looking for opportunities in each segment, both in Ireland and the UK, and have had in discussions with the National Pension Reserve Fund in Ireland.

Based in the Sweepstakes development in Ballsbridge, conveniently beside stockbrokers Goodbody and Merrion, PIIML's office has the capacity for 35 people, says MacIntyre, and the long-term plan is to continue to grow the Dublin operation. Most of the new recruits will be on the client relationship side says MacIntyre, as he says PIIML is loath to introduce more products at the risk of diluting the firm's investment management skills. Instead growth will be focused on distributing the company's products both in Ireland and the UK, and across Europe, and North America.
Article appeared in the September 2005 issue.