| | |
| --- | --- |
| Increase in pension provision will drive growth in fund management industry | Back |
One of the worst bear markets in history has hit fund managers hard, Daniel Broby, chief invstment officer of Denmark's third largest fund mnager BankInvest, told attendees at a seminar in Dublin on 'The State of the Fund Management Industry'. However, he added that Europe's aging population is putting pressure on pension provision, and he expects huge asset flows into the business as a result.
The first three years of the 21st century brought one of the worst bear markets in history with equity markets falling by some 40 per cent in real terms, and this has had a significant knock-on effect on buying patterns amongst retail investors, Daniel Broby, chief investment officer of BankInvest Asset Management, told attendees at a breakfast seminar held by the Society of Investment Analysts in Ireland on August 30th.

So it's been a tough time for fund managers, with 75 per cent making an operating loss in 2002/2003, says Broby, who is involved in running the Nordic asset manager's flagship global product, BankInvest Basis. A number of key trends have emerged out of this bear market, says Broby, including an explosive growth in exchange-traded funds (ETFs). Investors flooded into this product to achieve better returns than in equity funds. However, he reminded the audience that equity demand is cyclical.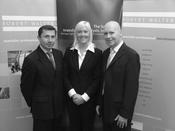 Daniel Broby, CIO, BankInvest, pictured with SIAI chairman Joe Kavanagh, and Mia Barry, manager, Robert Walters.



Overall he maintains that the outlook for the European fund management industry is very positive, due in large part to the 'greying' of Europe, and he says that European demographics make the asset management industry very attractive, as pension funds in continental Europe will have to increase their commitment to domestic and international equities. As such, he says that flows into equities in Germany, France, Italy, and Spain alone could total $4.5 trillion or more.

Alternative investments become mainstream
Broby is keenly interested in the hedge fund industry, and in November 2004 he launched Denmark's first and only regulated hedge fund on behalf of BankInvest. The fund is essentially a retail product, with a minimum investment of 100 DKK (€13), but average investment is around €10,000.

He says that the next leg of growth in the industry will be from pension funds as that a continuing problem with hedge funds being sold in the retail market is the lack of transparency. Hedge funds, by their nature, are not amenable to transparency, as Broby says, 'if you disclose a position you might get squeezed', and he believes that hedge funds are not suitable for all investors, only more sophisticated ones.

With regards to the increasing talk in the media that hedge funds are heading for a crash, Broby said that, 'hedge funds will hit the wall because they're run by incompetent people who don't know how to run them'. He is also concerned about counter-party concentration, eg 80 per cent of the prime broker industry is run by banks – and he can see one of these prime brokers running into difficulties in the near future. He also expressed concern about the credit default swap (CDS) market, which has soared in recent years, and which he says will blow up at some stage in the future.

Another difficulty impacting traditional long-only fund managers is staffing, as it is becoming increasingly difficult to recruit the best people in the industry, as they are going into hedge funds due to the massive amounts of money available. As one can clearly see, these salaries don't compare favourably with those in the hedge fund industry, where salaries of €30 million per annum are not uncommon amongst the top earners. So the war for talent between long-only and hedge funds will continue.

Distribution
According to Broby, the following factors all play a key role in how and where funds are distributed: Language; Taxation; Culture; Savings patterns; Distribution system; Product recognition; Brand awareness.

Savings patterns are a good indicator of where opportunities lie, says Broby, with bond funds very popular in Luxembourg due to the large proportion of Germans and Belgians who invest in them. Likewise, countries which don't have very developed savings patterns, such as Italy, present opportunities for managers to capture some of the market.

The open architecture model, whereby traditional European players sell other fund 'manufacturer's' products, is now gaining in popularity amongst banks, says Broby, adding that the banks like this model because if the performance of the funds is bad, they can blame someone else!

Fees
There is more pressure than ever before on fees, says Broby, to the degree that once you have done a Request for Proposal (RFP), and been selected in the beauty parade, a fund manager is now likely to spend up to three days arguing with the client about the fee structure. Broby's solution? 'I tell people that we'll be paid only if we perform – if we don't perform, then we don't get paid'.

Research
Regarding the on-going debate of whether or not investment banks should provide capital markets services, as well as equity research, Broby says that the 'Chinese walls' are now better-enforced to solve the problem of conflicts of interest between the two areas. However, he also said that a number of independent research firms are also setting up. Another solution to this issue of independence of research is setting global standards. The CFA Institute, of which the Society of Investment Analysts in Ireland (SIAI) is a chapter, has already defined a global level playing field in performance measurement, with its 'Research Objectivity Standards', which will address the sellside, buyside, investment banks and the media.

The question who pays for research also arises says Broby, who asks, 'Will you pay for research out of your fee income or will you ask your client to pay for it? This is a big change in the industry, and the writing isn't yet on the wall about which direction we'll go in'.
Article appeared in the September 2005 issue.