| | |
| --- | --- |
| Deals of the Year 2023: Early move by NTMA locks in low yield for benchmark bond | |
The National Treasury Management Agency (NTMA) January 2022 raise of €3.5 billion through the syndicated sale of a new 10-year benchmark Treasury Bond locked in low interest, long term funding despite volatile markets and rising inflation and interest rates.
This was the largest single issuance by the NTMA in 2022 with the agency's strategy of front loading its annual issuance, when market conditions allow, paying dividends for the State coffers.


The NTMA's planned funding range for 2022 was in the €10-14 billion range but due to strong cash balances and Exchequer position it completed its funding programme having issued €7 billion in long term bonds. Therefore the €3.5 billion syndicated sale of the new 10-year benchmark Treasury Bond, executed on 13th January 2022, meant that half of the State fund raising for the year was locked in at a yield of 0.387%. The size of the issuance and its timing, coming just weeks before Russia's invasion of Ukraine and the market turmoil that has ensued, gave great flexibility for the NTMA's funding activity for the remainder of 2022. The day following the issuance credit rating agency DBRS upgraded Ireland's credit rating to AA(low) with a stable outlook.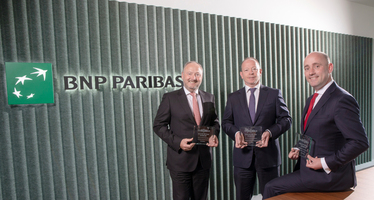 [L-R] BNP Paribas' Derek Kehoe, CEO and Head of Country, Ireland; Cormac O'Reilly, Director of Global Banking; and Billy Quinlan, Head of Global Banking Ireland.




For the issuance itself, there was strong demand for the benchmark bond from a diversified investor base with the total order book in excess of €27 billion across over 180 individual accounts. The issuance reached a broad audience of international investors – UK investors accounted for the largest portion (30%), followed by Italy (13%), the Nordics (13%). Germany/Austria/Switzerland accounted for 11%, France/Benelux 10%, followed by Spain/Portugal at 7% and Ireland at 7%. Other European countries together accounted for 3%. The Americas and rest of the world took 6%. The main investor categories were banks 42%, followed by fund managers 27%, official institutions 17%, hedge funds 8%, and pension & insurance 6%.

The NTMA next returned to markets with two treasury bonds in March 2022 raising €400m (due October 2023) at a yield of 0.778% and €600m (due May 2037) at a yield of 0.984%.

Derek Kehoe, CEO & Head of Country, BNP Paribas in Ireland said, "BNP Paribas were once again delighted to be entrusted by NTMA as Lead Manager on this highly successful 10year benchmark transaction. The level of demand and quality of the book speaks volumes for the quality of the issuer and the ongoing high demand for Irish Sovereign paper."

Lead managers on the January 10 Year Benchmark Bond transaction were Danske Bank, BNP Paribas, Citi, JP Morgan and Morgan Stanley. Co-lead Managers were Barclays, Bank of America Securities, Deutsche Bank, Goldman Sachs, HSBC, NatWest Markets, Societe Generale and Nomura. Arthur Cox advised the managers on the issuance with its team led by partner Cormac Kissane and included associate Sinead Williams.