| | |
| --- | --- |
| | Monday, 4th December 2023 |
| | |
| --- | --- |
| Deals of the Year 2023: Landmark deal in the reshaping of the Irish corporate banking landscape | |
AIB's acquisition of Ulster Bank's corporate banking division was unparalleled in scale and complexity for the Irish market and ensured continued access to credit and corporate banking services for Irish corporates affected by NatWest's decision to leave the Irish market.
The AIB/Ulster deal, winner of the Financial Services Corporate Banking Deal of the Year, was one a number of major changes in the Irish banking landscape precipitated by the ongoing exits of Ulster Bank (part of NatWest) and Belgium's KBC from the Irish banking market. It is one of the largest banking M&A transactions ever in Ireland, involving the acquisition of €4.2bn of drawn corporate loans and €2.8bn of undrawn commitments together with related staff.


The sale of Ulster Bank's Corporate Banking Division was undertaken by Goldman Sachs on behalf of NatWest by way of a competitive auction sale process.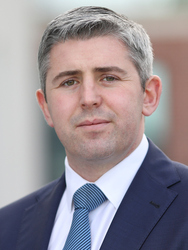 Allied Irish Banks' Terence Liston.




The transaction involved AIB acquiring Ulster Bank's entire commercial banking division including term and revolving loans, invoice discounting facilities, secured and unsecured loans, bond and guarantee facilities, overdrafts and trade receivable financing arrangements provided to Ulster Bank's large, medium and SME corporate customers, together with c.280 Ulster Bank relationship managers and employees who originate and service those customers. The migration of these corporate banking products, many of them complex and interdependent, raised a number of complicated regulatory matters, including whether anti-money laundering rules should apply to the transfers as well as matter under consumer/SME credit regulation. As a result of these complexities completions and transfer of loans from Ulster Bank to AIB are taking place on a phased basis over a period of 12-18 months, due to complete by end H1 2023.

The pre-signing phase of the transaction required a highly detailed 'product mapping' exercise by AIB and its advisors to devise solutions for transferring specific customer products in a way which mitigated the impact on the consumer while also minimising operational complexity and understanding risks which may present where there are product gaps or no near equivalent products for migrating clients.

The transaction was subject to Irish Competition & Consumer Protection Commission (CCPC) clearance and was notified to the CCPC in July 2021. Following a detailed Phase 1 Requirement For Information (RFI) process, the CCPC initiated a Phase 2 investigation of the transaction on 31 December 2021. After reviewing additional Phase 2 RFI responses from AIB and Ulster Bank/NatWest, the CCPC ultimately accepted AIB's legal advisors', McCann FitzGerald, arguments in particular focussing on 'exiting firm' counter-factual defences. As a result, the transaction was cleared unconditionally on 28 April 2022, after a 9 month Phase 2 review process (shorter than a typical Phase 2 review which usually can take up to 12 months), thus allowing the acquisition to reach financial close quicker.
[L-R] A&L Goodbody partners Maria McElhinney, Keavy Ryan and Seamus O Croinin




Another novel aspect of the transaction was that it involved the contractual transfer of a large number of sophisticated large corporate lending products between two regulated banks. In the past large M&A transactions involving regulated banks have been undertaken by way of a statutory transfer scheme under the Irish Central Bank Act. However, this route was not open to the parties and rather a conventional contractual transfer mechanism had to be used. This raised significant due diligence and transfer issues that needed to be addressed in the context of a very large portfolio of active and performing loans. All loans being transferred were performing high value loans and while there have been a large number of non-performing homogeneous loan portfolio transfers in the Irish market over the last decade, this transaction is without precedent in its scale, product variety and complexity.
McCann FitzGerald partner Aidan Lawlor.




In addition, the deal involved the novel development of a trustee service whereby AIB will hold money on trust for dormant or lazy Ulster Bank customers who cannot be contacted in relation to the transfer of their banking arrangements to AIB - this facilitates Ulster Bank in closing deposit/ current accounts and the revocation of its Irish banking licence.

Terence Liston, head of AIB Corporate Development said "AIB was delighted to complete this landmark transaction which was another important milestone in AIB's inorganic strategy. We look forward to working with our new customers and colleagues from Ulster Bank as they move to AIB Group and thank everyone who has worked on this transaction."

Aidan Lawlor, partner, McCann FitzGerald LLP, who led the firm's multi-disciplinary team on the transaction said, 'McCann FitzGerald LLP was delighted to advise our long-standing client AIB on this standout deal. This was truly a landmark...individuals across the firm worked tirelessly and seamlessly in supporting each another to deliver this transformational deal for our client.

Seamus O Croinin, partner, A&L Goodbody said, "It was a privilege to have worked with the Ulster Bank Ireland team on this important transaction, which marked a critical step in the bank's overall strategy. The mandate required co-ordinated input from a wide range of practice groups within the firm, and it has been great to work on such a complex transaction with a great client team."

Advisors on the deal include McCann FitzGerald (for AIB); A&L Goodbody (for Ulster Bank and NatWest); JP Morgan (financial advisor to AIB); Alantra (financial advisor to AIB); and Goldman Sachs (financial advisor to Ulster Bank and NatWest).