| | |
| --- | --- |
| Deals of the Year 2023: First ever Irish social bond strengthens AIB's ESG credentials and capital efficiency | |
AIB raised €1 billion in its first ever social bond issuance, underlining its commitment to meeting ESG goals and bringing its ESG bond issuance to €2.75 billion since 2020. The proceeds are earmarked for the financing of projects with clear social benefits, further strengthening AIB's position as a sophisticated player in the ESG space while also strengthening its funding position. The success of the issuance saw AIB return to the market with a second social bond issuance in January 2023.
The way was paved for the issuance of this social bond after AIB engaged with ESG investors across Europe on its wider sustainability strategy following the 2021 launch of its social bond framework (in an Irish corporate, state or semi-state context a first of its kind framework) on which Dutch bank ING acted as structuring advisor.


In order to be labelled a 'social' bond it must comply with the International Capital Markets Association's (ICMA) Social Bond Principles governing the use of the bond proceeds and related transparency and reporting requirements. AIB's social bond is also aligned with the upcoming EU Social Taxonomy, which seeks to support lending that addresses issues of Adequacy, Accessibility, Affordability and Quality (the recommended AAAQ approach) for citizens in accessing Healthcare, Education, Housing and Employment.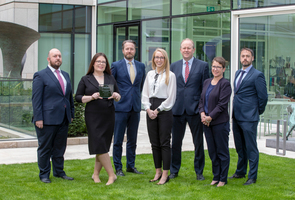 [L-R] Allied Irish Banks' Stuart O'Brien, Grace O'Grady, Stuart Muldowney, Niamh McHugh, Mark Whelan, Siobhan Walsh and Andrew Fox.




In the lead up to the trade, the issuer met with many (40+) accounts with capacity to invest in both the underlying credit and within the Social Framework over the six months preceding the issue.

Goodbody Stockbrokers, joint lead manager on the issuance said AIB's Social loan pool to back the bond was €1.7bn at the time of bond issuance, and, almost uniquely, had full pre-issuance allocation and impact reporting available. Impact reporting is in line with ICMA principles and fully published impact methodologies.

On the day of issuance AIB released initial price thoughts at mid-spreads+155 basis points (MS+155bps) with Goodbody Stockbrokers and the other members of the joint lead manager group seeing demand peak above €2bn for the transaction. The strength of the order book allowed AIB to announce a final spread at MS+130bps and to print its desired €1bn, based on a final book above €1.85bn. In light of the strong ESG bid from the investor community, a pricing discount was attributable to the Social nature of the offering, representing a saving of some of 5bps.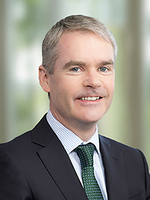 A&L Goodbody partner Adrian Burke.




The bond was issued at a fixed interest rate of 2.25% with a final order book comprising 97 investors, spread across 21 countries. Goodbody Stockbrokers remarked that the quality of the investor base was very satisfying with excellent participation by both ESG-focused investors and many of the leading international investment managers. It also placed AIB in a small cohort of banks globally that have issued both green and social bonds.

AIB will use the funds raised to lend to projects in the healthcare, education, social and affordable housing sectors, and to provide loans to Small and Medium Enterprises in socio-economically disadvantaged areas in communities across Ireland.

Mark Whelan, Head of AIB Term Funding said, "Being the first Irish social bond issuer, AIB invested the €1bn proceeds in projects with clear social benefits in communities across Ireland including social and affordable housing, healthcare and education. At the time, AIB was only the 19th bank globally to issue green and social bonds. AIB's second Social Bond, raising €750m, further demonstrates its commitment to Sustainability."

The social bond also counts towards AIB's Minimum Requirement for own funds and Eligible Liabilities (MREL). MREL is a requirement of the EU's Bank Recovery and Resolution Directive (BRRD) to improve EU's banks loss absorption and recapitalisation capacity and, ultimately, the overall effectiveness of any required bank resolution. Following the issuance of its inaugural social bond AIB's total quantum of MREL eligible instruments stood at c.€7.1bn.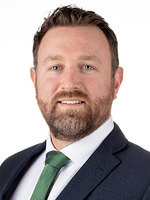 Goodbody's Aidan O'Mahony




Adrian Burke, partner, A&L Goodbody LLP said, "It was great to work with the team in AIB on its inaugural senior social bond issuance. This was a significant transaction for AIB and reflects the group's ongoing commitment to sustainability. The issuance was carried out under AIB's social bond framework. It was an interesting transaction to work on as the issuance was structured to meet two key objectives - to align with the International Capital Market Association's social bond principles and also to meet the MREL bank regulatory requirements for senior loss absorbing capital instruments."

Aidan O'Mahony, Head of ESG Advisory at Goodbody, said, 'Social Bonds are a rapidly growing form of finance, allowing borrowers to access additional pools of collateral for use in international capital markets at attractive rates. Goodbody's ability to help clients create a framework and underlying programme, along with assessing the appropriateness of their assets for qualification, is a key differentiator.'

Richard Kelly, partner, Matheson: 'We were delighted to advise the dealers on AIB's inaugural social bond issuance. While for many years the ESG focus has been on environmental objectives, we must always remember the significant social contribution which can be made by financial market participants and it is great to see this come increasingly to the fore.'

Advisers on the bond issuance included Goodbody (Joint Lead Manager); A&L Goodbody (advised AIB); Matheson (advised dealers); Linklaters; Allen & Overy. Other lead managers: ING, Goldman Sachs, JP Morgan, Bank of America, Natwest. ING also acted as Sole Structuring Advisor on AIB's Social Finance Framework.