| | |
| --- | --- |
| | Monday, 4th December 2023 |
| | |
| --- | --- |
| Deals of the Year 2023: Strong investor demand puts wind in Greencoat's sails | |
Greencoat Renewables, an investor in euro-denominated renewable energy infrastructure assets in Europe, principally wind farms, raised €281.5 million through a significantly over-subscribed share placing in April last year. This was by far the largest capital raise carried out by an Irish plc in 2022 and coming, as it did, shortly after Russia's invasion of Ukraine it required the deal team to adapt quickly to changing market conditions to successfully close the deal.
The capital raise was part of an original 400 million-share issuance programme launched the preceding October, when Greencoat raised an initial €165 million by issuing 148.6 million shares from the allotment. The firm said it has multiple attractive near-term investment opportunities under consideration in Ireland and continental European markets and the proceeds of the April fund raise were earmarked 'to provide the company with the flexibility to execute on assets under exclusivity and meet obligations under committed forward sale investments'.


'I am very pleased with the oversubscribed placing, reflecting shareholder confidence as we continue to build one of the leading European renewable energy infrastructure companies,' said chairman R?n?n Murphy. 'As the transition to renewable energy gathers pace, I am very optimistic about the prospects for the business and look forward to deploying these proceeds to deliver on our ambitious growth strategy.'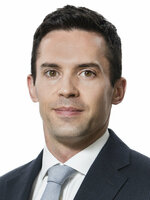 William Fry partner Brian Butterwick.




In the five years since it raised €270 million in its July 2017 IPO, Greencoat Renewables has raised a further €950 million. The highly successful placing has firmly established Greencoat Renewables in the small cohort of Irish plcs with a market capitalisation above €1 billion.

Greencoat Renewables is managed by Greencoat Capital, an experienced investment manager in the listed renewable energy infrastructure sector. Launching soon after Russia's invasion of Ukraine, the transaction came to market in challenging conditions. Despite this, it received strong demand and was significantly over-subscribed. This is a testament to the strength of Greencoat Renewables' equity story and the execution capabilities of the advisory team supporting it on this transaction.
McCann FitzGerald partner Stephen FitzSimons.




Stephen FitzSimons, partner, McCann FitzGerald said, 'This placing capped a remarkable growth story for Greencoat Renewables, which in less than 5 years since its IPO in July 2017 has raised more than €950m, in addition to the €270million raised in the IPO. The highly successful placing also firmly established Greencoat Renewables in the small cohort of Irish PLCs with a market capitalisation above €1 billion. McCann FitzGerald LLP was delighted to advise this valued client on this placing which was the final tranche of a 12 month share issuance programme. We have advised Greencoat on all of its fundraising since its July 2017 IPO.'

Billy Quinlan, Head of Global Banking Ireland, BNP Paribas said, "BNP Paribas was pleased to support Greencoat on its latest capital raise. Greencoat is one of the main Irish success stories in growing a large portfolio of wind and solar assets across Ireland and Continental Europe."

Brian Butterwick, Partner, Corporate M&A, William Fry said, "We are delighted to have assisted the joint bookrunners in another successful fundraising by Greencoat. The transaction was completed during a period of market uncertainty shortly after Russia's invasion of Ukraine. It therefore required the collective deal team to move quickly and effectively to capitalise on changing market conditions and deliver a successful outcome for the company."

Advisors on the deal included: McCann FitzGerald (Irish legal adviser to Greencoat Renewables); Cadwalader (English and US legal adviser to Greencoat); William Fry (adviser to the arrangers/banks); J&E Davy and RBC Europe (global co-ordinators and joint book runners); BNP Paribas (joint book runner).