| | |
| --- | --- |
| Analyst rankings reflect excellence and new focuses | back |
Merrion and Goodbody have tended to dominate the individual analyst rankings in recent years and this trend is continued this year, with Goodbody capturing four individual analyst 'firsts', while Merrion captured 9 (four of which were won by John Mattimoe). Davy analysts headed the list in two categories, and NCB in one.
'You are only as good as your last story' is a long standing description of a journalist's career challenge, but it equally applies to the position of stockbroking analysts - this year's Survey again indicates the fickleness of the market, and the fact that if you change focus, or even relax, for a year you stand to suffer the consequences in these ratings which can be unforgiving. The results this year reflect changes in job position within stockbroking firms, and a reallocation of focus - for example Robert Brisborne, who produced a stellar performance in food and beverages /agribusiness, running away with the category, but, at the same time suffering a downgrading of his ranking in Pharmaceuticals and Biotechnology, which he won last year, slipping to fourth position this year.

Merrion's overall performance as a firm was helped by the performance of Brisborne and his colleague John Mattimoe. Mattimoe pulled off wins in an unprecedented four categories: small and mid cap stocks, paper and packaging, construction/building materials, and airlines. Mattimoe also won the overall award of 'Analyst of the Year'.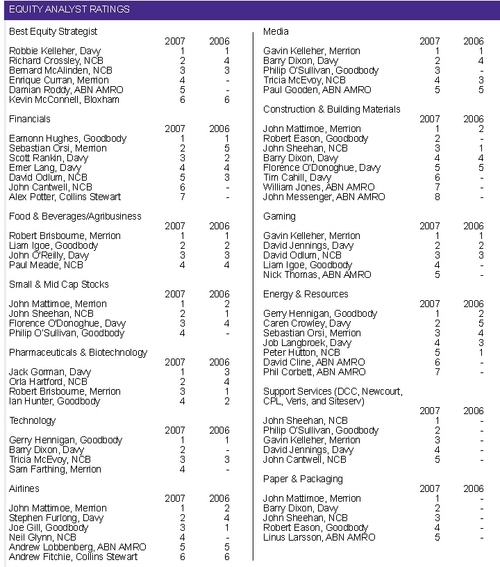 Analyst Ratings 2007



When it came to strategy, Davys retained its dominant position, with Robbie Kelleher comfortably winning the Best Equity Strategist category for the fourth year in a row. This brings to eight the number of times Robbie Kelleher has been named as Best Equity Strategist, having won it the first year it was inaugurated in the survey, in 1993. Other winners since then were: John Hogan (Riada), in 1994 and 1995, John Conroy, then of NCB, and now Chief Executive of Merrion (1998), and NCB's Bernard McAlinden (2002 and 2003).

That No2. position reflected the further consolidation of the reputation of NCB technical analyst Richard Crossley, who rose to supplant his NCB colleague Bernard McAlinden in second place, followed by Enrique Curran of NCB and, two 'second line' firm representatives, ABN AMRO's Damian Roddy, and Bloxham's Kevin McConnell.

Financials
The horrendous year endured by financial stocks made for a very difficult agenda for bank and financials' analysts in 2007, yet, last year's winner, Eamonn Hughes of Goodbody retained his comfortable lead over all comers in the category, his nearest rival Sebastian Orsi, of Merrion only coming within 15 p.c. of his final tally. He consolidated his, and Goodbody's, position in the sector, which he first won back in 1999, when he worked for ABN AMRO. Orsi moves up the rankings this year, from fifth in 2006, and earning the plaudit from one fund manager that he is 'one of the best bank analysts in the EU'.

Davys duo Scott Rankin and Emer Lang retained their high showings, with 3rd and 4th rankings, similar to last year, while NCB's duo David Odlum and John Cantwell also scored well, as did Colin Stewart's Alex Potter.

Food & Beverages/Agribusiness
Food is very much back in favour as a sector, with talk of world food shortages, grain prices setting new records, and farmers enjoying an unexpected new found prosperity, making up for the difficult years of consolidation and epidemics such as foot and mouth.
The incumbents of last year were returned again in exactly the same positions as 2006, with Robert Brisborne's C&C work helping to consolidate his position, over 25% ahead of his nearest rivals, Liam Igoe of Goodbody, and John O'Reilly of Davy.

Construction & Building Materials
Building was another sector facing a difficult year, with construction statistics showing a big falloff in house starts in Ireland. Here John Mattimoe shot up the rankings to secure a comfortable win, displacing runners-up NCB's John Sheehan, and Robert Eason, of Goodbody, who entered the construction rankings to pip Sheehan at the post.

Airlines
Airlines also saw change during the year, with Mattimoe again featuring, moving up from second last year to secure a comfortable win, ahead of Stephen Furlong of Davy, who moved up to second position, and with Goodbody's Joe Gill in third position

Support Services
A new category this year is 'Support Services', a new sector created for the survey to account for a new group of equities in the area - DCC, Newcourt, CPL, Veris, and Siteserv. It is a service sector that reflects a growth sector in the Irish economy, and can be expected to grow in importance in the future. The winer in the new category is NCB's John Sheehan, last year's overall 'Analyst of the Year' winner, followed by Philip O'Sullivan of Goodbody and Gavin Kelleher of Merrion.

Technology
One of the more favoured sectors currently, Gerry Hennigan from Goodbody's retained his top position, with a comfortable win over 20% of the vote ahead of Barry Dixon of Davy, and Tricia McEvoy of NCB, followed in fourth slot by Sam Farthing of Merrion.

Small & Mid Cap Stocks
Small and mid caps saw last year's first three returned, with a switching around of positions, with John Mattimoe moving to head the category this year, followed by John Sheehan of NCB who won the category last year. Moving up one place was Davy's Florence O'Donoghue, followed by new entrant in the category Philip O'Sullivan of Goodbody.

Gaming
A new category last year, Paddy Power being the main stock of interest, Merrion's Gavin Kelleher retained his comfortable dominance of this sector, followed by unchanged No 2 and 3 positions for David Jennings of Davy, and David Odlum of NCB. Two new entrants were Liam Igoe of Goodbody and Nick Thomas of ABN AMRO.

Energy & Resources
Energy & Resources is back in vogue, given the price of oil and the resurgence of the mining industry worldwide, spurred by base metal and other commodities' pressures brought about by global growth. The winner in this category was Goodbody's Gerry Hennigan, giving him a double this year, to match his first in Technology. He was followed by Caren Crowley of Davy, moving up from fifth position last year, followed by Sebastian Orsi of Merrion.

Pharmaceuticals & Biotechnology
This was one of Davy's relatively few outright individual analyst wins in this year's survey, with Jack Gorman improving on his third slot in 2006, to win, with a margin of 12 p.c. over second placed Orla Hartford of NCB, both of whom displaced last year's Robert Brisbourne of Merrion to third position.

Media
Winner of the media sector was again Gavin Kelleher of Merrion for the second year in a row, with a comfortable victory 13 p.c ahead of nearest rival Barry Dixon of Davy. Dixon himself moved up from fourth position, displacing Philip O'Sullivan of Goodbody and Tricia McEvoy of NCB.

Paper & Packaging
With the reappearance of Smurfit Kappa, Paper & Packaging makes its reappearance as a sector in this year's Finance Survey. The new category resulted in an additional gong for John Mattimoe, overall 'Analyst of the Year'. He was followed by Barry Dixon, one of the authors of the Davy report on Smurfit Kappa Group co-authored with Tim Cahill and Robert Gardiner (See also Research Reports of the year).