| | |
| --- | --- |
| Impressive return on equity for Airtricity shareholders | back |
The Sale of Airtricity to Scottish and Southern Energy is the winner of this year's overall Corporate Finance Deal of the Year seeing off competition from deals such as the Acquisition of Rexam by Ardagh Glass and HM Rivergroup takeover of Harcourt. The Airtricity deal showed benefits of the deal for both the acquirer and the target with an impressive return on equity in a deal that took place during a difficult market environment. The deal demanded strong project management expertise and legal expertise and commercial acumen across a range of legal issues including corporate, property, banking and employment.
The Sale of Airtricty to Scottish and Southern Energy while offering liquidity for the sellers with an impressive return on equity, the acquisition was of strategic importance to Scottish and Southern Energy plc allowing it to diversify its capital into renewable energy while giving SSE access to a customer base and an existing supply network to support the acquirer's plans for entry into the Irish market. At a purchase price of €1.8 billion it represented a multiple of four times invested capital and a 100 per cent increase in value per share over the last equity fundraising, completed in June 2006 and a 720 per cent increase over the initial equity fundraising carried out in 2002.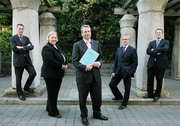 Corporate Finance Deal of the Year: sale of Airtricity to Scottish and Southern Energy. Pictured (l to r) Fintan Clancy, partner, Arthur Cox Solicitors; Sheena Doggett, partner, A&L Goodbody; Paul Dowling, chief executive officer, Airtricity; Kevin Feeney, partner & head of Project Finance, A&L Goodbody; and Andrew Ennis, corporate finance director, NCB Corporate Finance.




Sheena Doggett a partner at A & L Goodbody, who were legal advisers on the deal, says that as there were close to six hundred beneficial shareholders in the target - the sales process and managing the agreement of the transaction needed to account for many divergent interests.

Ciaran Bolger, partner at Arthur Cox, also legal advisers in the deal, says the deal was unique in that it involved, 'the sale of the parent company immediately following the sale by that company of its US subsidiary (for US$1 billion) to a different purchaser.'

On the timing of the deal Bolger says 'this deal, involving a significant trade buyer with a strong balance sheet and significant cash resources, came in the middle of the 'credit crunch' which would have disadvantaged private equity bidders in particular.'

Major obstacles to the deal included: the need for a multinational due diligence on approximately 80 operating subsidiaries and due diligence on sale of North American business and management of target's contingent liabilities from that sale process.

Bolger says, 'The multiplicity of private individual shareholders affected the approach to warranties and indemnities and a portion of the consideration was set aside as an escrow fund for this purpose. In addition, the fact that the target (Airtricity) had only months before it disposed of its US business meant that the implications of the sale of the US subsidiary had to be accommodated within the legal documentation for the sale of the ultimate parent. This gave rise to significant complexity.'


Doggett says, 'the deal attracted bids from multinational utility companies in the sector. Also an MBO team, led by the founder of the target company, made a bid. This MBO team were also sellers of the target to the acquirer.'